Upcoming Events and Announcements
- As restrictions have been lifted, masking is no longer mandatory. However, St. John's supports everyone's choice to wear or not to wear a mask for their own comfort and safety.
- Our Sunday school leader position has been filled. Children of all ages are welcome to come Sunday morning for supervised activites and crafts.
- Communion is held every 4th Sunday of the month
- Join us for World Communion Day October 1st
- Sunday Service start time is now 10:00am, dont be late!
Adaptive Chair Yoga with Tracy will resume in the fall.
This fall colored quilt is appropriately named Autumn Braid and is a Cozy Quilt Design. It features a large assortment of batik fabrics gathered from areas across North America. Thank you to Jacki Kunec for sharing her passion and talents with us. This beautiful quilt can be found in it's new location in the fellowship area for all to enjoy.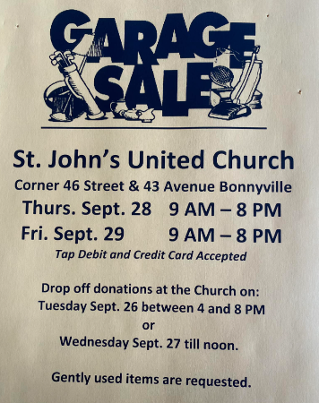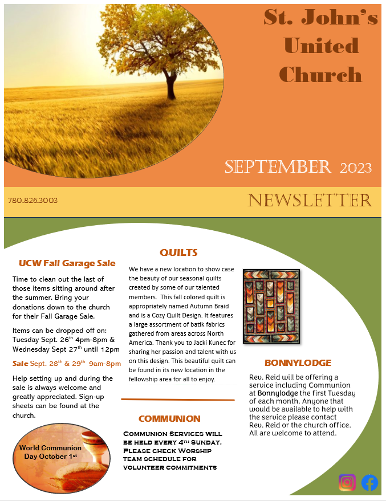 If you would like to continue with your offerings
- E-Transfer can be sent to
Bonnyvilleunited@gmail.com (please include envelope number)
- Join PAR buy contacting Stacy Mercier Mailed in to: St. John's United Church 4510 - 43 Ave Bonnyville, AB T9N 1R4
Thank you for your continued support