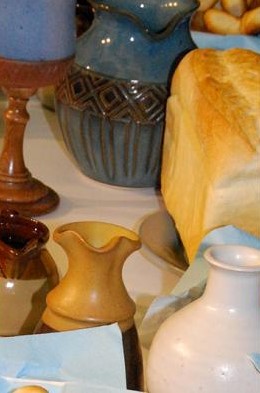 Communion
The United Church practices two sacraments: baptisms and communion. As our Statement of Faith explains, "we believe that the sacraments of Baptism and the Lord's Supper are effectual means through which, by common things and simple acts, the saving love of God is exhibited and communicated to His people, who receive them in faith."
Our Basis of Union states, "The Lord's Supper is the sacrament of communion with Christ and His people, in which bread and wine are given and received in thankful remembrance of Him and his sacrifice on the Cross; and they who in faith receive the same do, after a spiritual manner, partake of the body and blood of Lord Jesus Christ to their comfort, nourishment, and growth in grace. All may be admitted to the Lord's Supper who make a credible profession of their faith in the Lord Jesus and of obedience to His Law."
Our practice of Holy Communion is rooted in the accounts of the meal in the Upper Room the night before Jesus died and the other meals Jesus shared during his ministry and after the resurrection. The Prayer of Thanksgiving recalls God's saving acts throughout history, beginning with creation. The meanings that we as a church celebrate around this act are rich and varied. The Lord's Supper is a thanksgiving to God, a memorial of Christ, an invocation of the Holy Spirit, communion of all members of Christ's body and a foretaste of the meal of the Kingdom of God.
The United Church practices an open table, inviting all who seek to love Jesus to share in this family meal.