Upcoming Events and Announcements
- As restrictions have been lifted, masking is no longer mandatory. However, St. John's supports everyone's choice to wear or not to wear a mask for their own comfort and safety.
- In person services have started again.
We will be offering in person services composed by the United Church of Canada with sermons from United Church Ministers and lead by members of our Congregation.
- We are very excited to announce that Fellowship is back! Please stay after service to enjoy light snack, beverages and socialize. It is so nice to SEE everyone's faces again.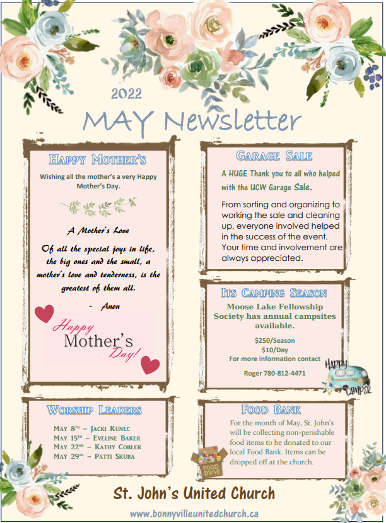 A Huge THANK YOU to all who lent a hand with the UCW Garage Sale. All of your hard work and organizing lead to an amazing sale.
St. John's is also collecting non-perishable items for our local Food Bank for the month of May. Items can be dropped of at the church Tuesday and Thursday mornings or send us a message to arrangement an alternate time.
- Follow this link for your own at home Communion https://youtu.be/Hw6vgVMTn8k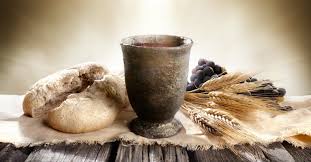 If you would like to continue with your offerings
- E-Transfer can be sent to Bonnyvilleunited@gmail.com (please

include envelope number) - Join PAR buy contacting Stacy Mercier Mailed in to: St. John's United Church 4510 - 43 Ave Bonnyville, AB T9N 1R4
Thank you for your continued support during this time.